Can you believe we've never done a Skinny Bars cookie recipe!? We couldn't either so we're starting off strong with our new scrummy Skinny Salted Caramel Dream Cookies (try and say that five times fast!). Drooool. These dreamy cookies can either be eaten individually, popped in a pack-up for an on-the-go treat, topped with low-cal ice-cream and berries for the ultimate cookie dessert or even used to sandwich a scoop of ice-cream in the middle for a scrumptious cookie sandwich. The options are endless!
Super easy to make, with only 20 minutes prep time and making 9 cookies, this could be the perfect way to unwind on an evening or even as a fun activity with the kiddos. And at under 150 calories per cookie (yes, even with the indulgent chunks of Skinny Dream Salted Caramel Bars), it'd be rude not to! So let's get started…
The bits you'll need: 
2 Skinny Dream Salted Caramel Bars
45g Unsalted Butter
75g Caster Sugar
50g Plain Flour
½ tsp Baking Powder
70g Porridge Oats
1 Egg
½ tsp Vanilla Extract
Pinch of Salt
How to make 'em: 
Chop each Skinny Dream Salted Caramel bar into 14 equal-sized pieces and pop them in the freezer to firm up.
Preheat the oven to 180°C electric/160°C fan/gas mark 4.
In one bowl, mix the flour, oats, baking powder and salt. In another bowl lightly beat the egg with the vanilla extract.
Melt the butter in a pan over a low heat, add the sugar and stir until the sugar has dissolved.
Once dissolved, add the butter and sugar mixture to the flour, oats, salt and baking powder and mix. Then add the egg mixture and keep mixing until it creates a scrummy looking cookie mix.
Line a tray with greaseproof paper and spoon out the mix into 9 equal sized cookies (ensuring that enough room has been left in between each to allow them to spread during cooking!).
Grab your Salted Caramel bar chunks from the freezer and place 3 chunks into the top of the dough of each cookie (extra challenge: try not to eat any as you go!).
Bake for 10-12 minutes, and then allow to cool before serving.
And there you have it, enough cookies to last you a week… or three days… or a particularly peckish evening. Share your snaps with us of your cookie creations on Instagram or Facebook, as always, as we love to see your take on our recipes. Now, what are you waiting for, dig in!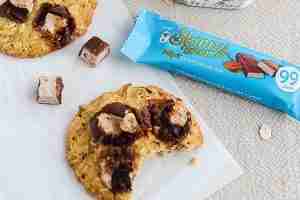 Ingredients
| ITEM | KITCHEN WEIGHT |
| --- | --- |
| SKINNY DREAM SALTED CARAMEL BAR | 2 BARS |
| UNSALTED BUTTER | 45G |
| CASTER SUGAR | 75G |
| PLAIN FLOUR | 50G |
| BAKING POWDER | ½ tsp |
| PORRIDGE OATS | 70G |
| EGG | 1 |
| VANILLA EXTRACT | ½ tsp |
| SALT | PINCH |
| | |
EQUIPMENT
Oven
Pan
Baking Tray
Greaseproof Paper