Our story
Everyone loves a sweet treat every now and then, but quite often those sweet treats can be really high in calories. At Skinny Bars we wanted to create the perfect deliciously indulgent treat, that satisfied those sweet cravings, whilst also being low in calories. Sounds Impossible right? WRONG! Our in-house development team worked tirelessly day after day, recipe after recipe, until the they finally cracked it! That perfect treat which was both indulgent and low in calories...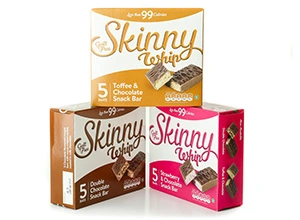 May 2018
The first creation in the Skinny Bar Family was launched, the Skinny Whip range. Delicious flavoured Nougat, coated in Creamy Milk Chocolate all for less than 99 calories per bar
2018
March 2019
After the successful launch of the Skinny Whip Range, a new product range was launched. The Skinny Crunch Range. Mixed Cereal bars with a chocolate drizzle and footer. All for less than 75 Calories
2019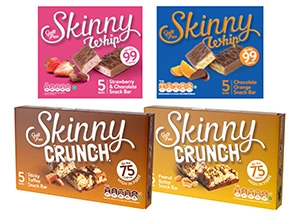 January 2020
The first redesign for the Whip and Crunch range.
2020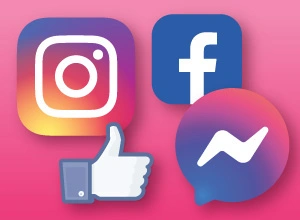 February 2020
Skinny Bars Launches on Social Media
2020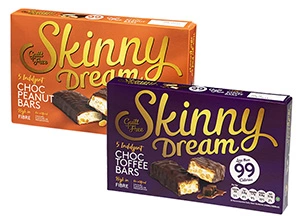 August 2020
As the brand continues to grow and succeed, the team wanted to see how they could bring more indulgence to the range. Low and behold, Skinny Dream was created! Taking all the best parts of the Skinny Whip bar and adding a sumptuous layer of caramel, whilst still keeping it less than 99 calories. It was genius! Two Skinny Dream Flavours we're launched, Dream Peanut and Dream Toffee.
2020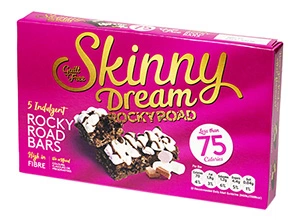 December 2020
A new Extension of the Skinny Dream range was created. Introducing Rocky Road. A mixed cereal bar with Chocolate drizzle and base topped with fluffy marshmallows.
2020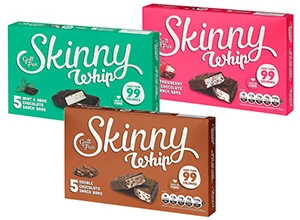 May 2021
Skinny Whip packaging updated to match Crunch and Dream
2021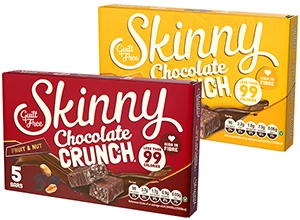 August 2021
A third range to add to the portfolio, Skinny Chocolate Crunch. Mixed cereal bars enrobed in silky milk chocolate in two delicious flavours, Honeycomb and Fruit & Nut.
2021
March 2022
Skinny Bars decided to launch into a brand new Category with Skinny Crunch Cereal. Two granola varieties and two cereal varieties.
2022
July 2022
A new Launch for Skinny Dream and the first white bar in the range, Skinny Dream Strawberries and Cream landed in market.
2022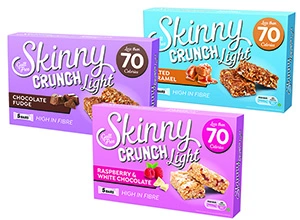 August 2022
Skinny Crunch Light was launched, a lighter version of our Skinny Crunch range all at less than 70 calories per bar
2022
September 2022
A brand new format launched, Skinny Whip Minis, bitesize skinny whip bars packaged in a bag in two brand new flavours.
2022