Back to Blog
Facebook-f
Instagram

Why is it that all the best national days involve naughty foods? Easter… Christmas… and now Pancake Day!
Thankfully, we've come up with a totally scrummy, guilt-free solution for this Shrove Tuesday, so you can enjoy a tasty pancake dish with some healthier switcheroos! Switching out flour for oats gives you a healthy amount of protein and fibre compared to regular pancakes, both of which can help keep you fuller for longer, and semi-skimmed milk is always a good switch from full fat milk to cut out a few extra cals.
This recipe consists of a chocolate peanut disc sandwiched between TWO pancakes for just under 360 cals, so that's two for the price of one serving if you ask us! Hooray!
The bits you'll need: 
1 x Skinny Dream Chocolate Peanut Bar
1 x One Calorie Oil Spray
40g Porridge Oats
80ml semi-skimmed Milk
1 egg
A pinch of Salt
How to make it: 
Cut the Skinny Dream Chocolate Peanut bar into pieces and place in a microwave safe bowl. Heat for 30 seconds or until soft enough to stir with a spoon.
Spoon the mixture onto a piece of greaseproof paper (and don't forget to lick the spoon, of course!). Using another piece of greaseproof paper, press down on the chocolate mixture, spreading the mixture into a yummy looking circular chocolate disc approximately 10cm in diameter. Place the chocolate disc in the freezer to firm up.
For the pancake mix, use a stick blender or food processor and blend together the oats, milk, egg and salt until smooth. Leave to sit in the fridge for 10 mins to thicken up.
Spray a non-stick frying pan with 1 calorie oil spray and heat. Remove the pancake mix from the fridge and pour into the pan to make 2 pancakes simultaneously, each approximately 12-14cm in diameter. Remove the chocolate disc from the freezer and place on top of one of the pancakes, then using a spatula flip one pancake on top of the other to make a tasty looking chocolate-pancake sandwich. Continue to cook on a low heat until the batter has cooked, flipping the whole pancake sandwich again if necessary.
Serve the pancakes, adding your fave scrummy toppings like berries or chopped banana and enjoy!
Head to our Facebook  or Instagram to share your recipe pics and give us more yummy pancake-y inspo. We love to see your snaps so make sure you tag us and you may even be featured on our page!
Lot's of Love,
Team Skinny x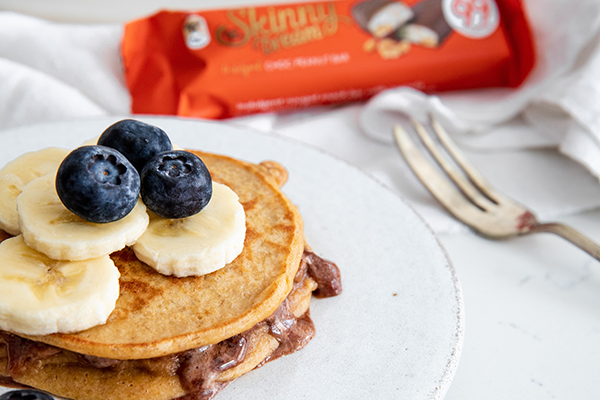 Ingredients
| | |
| --- | --- |
| ITEM  | KITCHEN WEIGHT |
| SKINNY DREAM CHOCOLATE PEANUT | 1 BAR |
| ONE CALORIE OIL SPRAY | 1 SPRAY |
| PORRIDGE OATS | 40G |
| SEMI-SKIMMED MILK | 80ML |
| EGG | 1 |
| SALT | PINCH |
EQUIPMENT