Remember, remember the fifth of November… and to heat up that grill because it's s'mores time!
It's Bonfire Night tomorrow, and bonfires mean one thing: the warm, gooey goodness of roasted marshmallows. And of course, what better way to enjoy them than sandwiched between crackers and delicious melted chocolate? Aka, the classic s'more… but time to make it 'skinny'.
So whether you've got a campfire planned, or even just an oven at home, this is a scrummy recipe with only three ingredients and at only 221 calories to do by yourself, with a date, or even with the kids!
The bits you'll need: 
1 x Choc Toffee Dream Bar
2 x White Marshmallows
2 x Rich Tea Light Biscuits
How to make 'em at home:
Preheat the grill as hot as it goes!
Place a rich tea biscuit on a flat baking tray.
Top the biscuit with a Choc Toffee Dream Bar cut in half evenly and two marshmallows.
Place under the grill until the marshmallows go gorgeous gooey and goldenly toasty on top.
Remove from the grill and press the remaining biscuit on top to make the world's most delicious sandwich, et voila!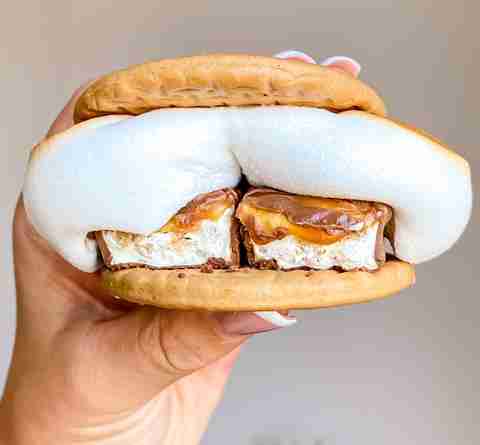 If you want to see a short video of the recipe being made, then head here. Just a word of warning, these are HOT HOT HOT fresh out the oven. Plus, make sure you have enough Skinny Bars at hand because these will definitely leave you wanting s'more!
Love, Team Skinny x
P.s. Make sure to tag us in your photos on social media, @skinny_bars, so we can see who has achieved the gooey-est s'more yet. We love to see your Skinny recipes come to life!
Ingredients
| ITEM | KITCHEN WEIGHT |
| --- | --- |
| CHOC TOFFEE DREAM BAR | 1 |
| WHITE MARSHMALLOWS | 2 |
| RICH TEA BISCUITS | 2 |
EQUIPMENT